LAB Open 2020
Thank you for your interest in the LAB Open 2020 organized by
.
You only need to register your information once and can return to this site to enter more brews or edit the brews you've entered. You can even pay your entry fees online if you wish.
Judge and Steward Registration is
Open
If you have not registered and are willing to be a volunteer, please register.
If you have registered, log in and then choose Edit Account from the My Account menu indicated by the icon on the top menu.
Rules
The competition is now closed for adding new entries or editing existing entries.
The LAB Open Competition and festival, formerly named the London and South East Craft Brewing Competition, is a BJCP sanctioned competition where your homebrewed beers are assessed by qualified judges against current style guidelines.
Score sheets and written feedback are provided on each entry. Rosettes, certificates and prizes  are awarded in each of 12 (or more) category groupings and for Best of Show places.

The beers are made available to sample and discuss with fellow competitors and friends in a festival-type setting on the afternoon of Sunday, May 3rd from 1PM - providing a unique opportunity to sample hundreds of homebrews, arranged in their style groupings, with great and excellent examples of the styles flagged. A rare chance to compare your beers against others brewed to the same style, or just to explore the wide range of styles being made today.

This year's competition and festival is being held at Hammerton Brewery, Islington London.

Beers will be assessed against BJCP Style Guidelines 2015 available via this link.

Eligibility: This competition is open to everyone, worldwide. Competition Organizers, staff, judges and stewards may enter the competition. Measures are in place to ensure fair, anonymous, judging. Judges and stewards will not be assigned to categories that they have entered. Entries must have been made at home. Those made in commercial establishments, including brew-on-premise establishments, are not eligible. 
Competition Official
You can send an email to any of the following individuals via Contact.
Lee Immins — Competition Coordinator
Sponsors
London Amateur Brewers is proud to have the following sponsors for the LAB Open 2020.

Unit 8 & 9 Roman Way Industrial Estate, 149 Roman Way, London, N7 8XH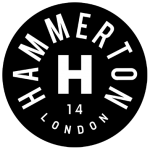 Hammerton Brewery is a microbrewery based in Islington brewing small batch beers with the aim to bring great tasting beer back to the borough and also re-establish the Hammerton Brewery name in London. Hammerton Brewery originally began brewing in London in 1868. Sadly it ceased to brew in the late 1950s and was later demolished. In 2014, a member of the Hammerton family decided to resurrect the family name in brewing. It also brings brewing back to Islington, a London borough with a great beer making heritage. Hammerton Beers today are based both on modern and traditional brewing techniques. The team are lovers of all things beer and our beers are influenced not just by English beers but the great beers found across the globe. The team consist of Lee (Founder), Karina (Commercial Manager), Rachel & Tim (Sales), James (Head Brewer), Elliott (Lead Brewer), Patrick (Brewer), Shila (Accounts) & Nic (Deliveries ). "Our emphasis is on taste and using the best quality ingredients possible. Good beer takes time and patience".